Letters in the Attic by DeAnna Dodson
Up in her grandmother's attic in Stony Point, Maine, Annie Dawson finds a stack of old letters from her childhood friend Susan Morris. Annie remembers Susan fondly and would like to get back in touch, but nobody seems to know what's become of her. Her friends at The Hook and Needle Club aren't much help either. All they remember is that Susan left town more than twenty years ago to marry a very wealthy man, but none of them is quite sure who he was. And Annie can find no record of any marriage.

The more Annie searches, the more she begins to wonder if something has happened to Susan. Something bad.
Formula for Danger by Camy Tang
HER LIFE WAS ON THE LINE
Someone wants dermatologist Rachel Grant's latest research, and they'll do anything to get it. Including trashing the plants needed for her breakthrough scar-reducing cream--and trying to run Rachel down. Desperate for help, she turns to Edward Villa, the only man she trusts. But the greenhouse owner knows too much about Rachel's research, and now he's a target, too. Break-ins, muggings, murder...the would-be thief is getting desperate--and getting closer. Edward vows to protect Rachel at all costs. Yet with time ticking away, Edward knows they have to uncover the madman shadowing Rachel before their chance for a future is destroyed.
Shelter of Hope by Lyn Cote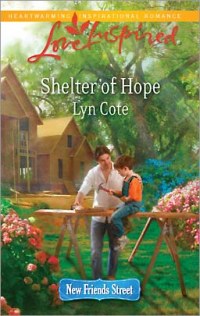 Struggling single mother Rosa Santos is deeply touched when volunteers band together to build her a home. With a waitressing job, community college and church, Rosa barely has time to help, let alone dream about a husband and father figure. But when handsome volunteer Marc Chambers hands her withdrawn young son a little hammer, her heart swells. Suddenly, her son is blossoming. But the closer she and Marc get, the more he pulls away. Why? He's built her a shelter of hope. One she—and her son—pray he'll take refuge within….